Introduction
The Microbial Oxidative Degradation Analyzer (MODA) is a device capable of accurately and precisely weighing the miniscule amounts of carbon dioxide generated by microbial activities. In particular, studies of plastic biodegradability require high-accuracy and high-precision weighing of carbon dioxide. Therefore, MODA employs the following methods according to the international standards described in ISO 14855-2:
Removing carbon dioxide from air
Introducing carbon dioxide-free air into compost
Removing moisture from gases generated by the compost
Absorbing carbon dioxide generated by the compost with soda lime
Weighing the resulting soda lime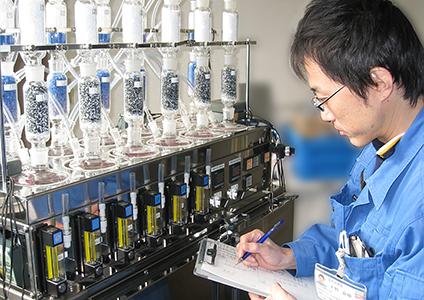 Before MODA's market launch, large-scale sample testing using large-scale tanks was necessary.
Now, MODA allows straightforward sample testing to be realized on a small/laboratory scale.
Test methodology is now available not only under aerobic conditions but also under various environmental conditions:
ISO 17556: Aerobic plastic biodegradability measurement in soil
ISO 13975: Anaerobic plastic biodegradability measurement in a controlled slurry digestion systems
MODA has been already shipped to around 60 customers in 20 countries around the world.
Many researchers around the world are utilizing MODA in their laboratories.
Products
MODA-6 for aerobic biodegradation
MODA-6 is a weighing device for aerobic plastic biodegradability in soil. Six reaction columns are installed in an environmental chamber in which the temperature is precisely controlled.
Features
Six reaction columns installed in an environmental chamber
All columns under identical conditions of temperature
Precise temperature control(+/-1°C)
Dimensions; W900 mm x D450 mm x H1,700 mm (W35.4×D17.7×H66.9 inches)
Easy operation
Applicable to ISO 14855-2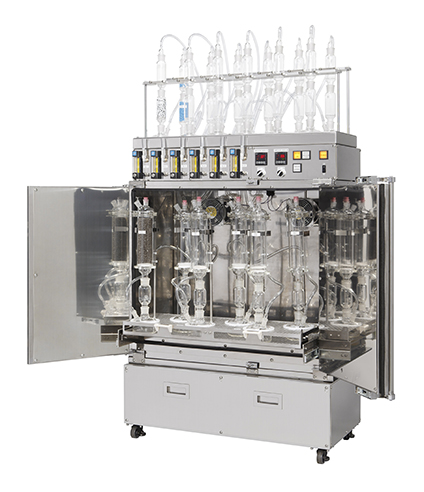 MODA-4 for aerobic biodegradation
Four reaction columns are installed and the temperature of each column can be independently controlled. Therefore, it is the most appropriate device for basic research applications such as robust screening of various temperature conditions.
Features
Four reaction columns with independent temperature control
Precise temperature control (+/-2°C)
Compact design W600 mm×D720 mm×H1200 mm
Easy operation
Applicable to ISO 14855-2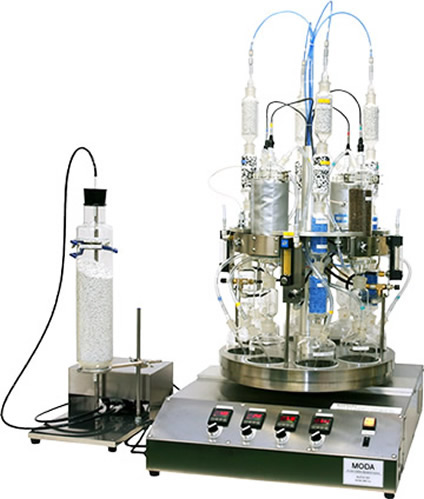 MODA-B for anaerobic degradation
MODA-B realizes the measurement of microorganism activity under anaerobic conditions on a laboratory scale.
Features
For evaluation of microorganism activity and biodegradability of plastic in slurry digestion systems
Bench top type (W600 mm×D720 mm×H900 mm)
Six reaction columns with independent temperature control
Evolved gas recirculated through the digestion for stirring at a user-controlled rate
Easy operation
Applicable to ISO 13975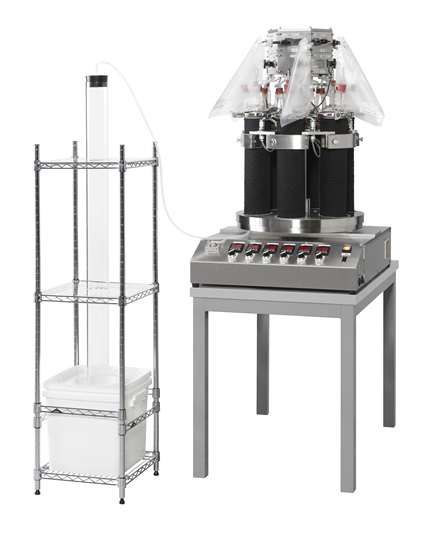 Introduction Examples
By clicking each marker, the introduction example's detail can be seen.
Training Service
We provide training services to support your understanding of plastic biodegradability and to see our MODA apparatus in action. An example training schedule is as follows:
Our Training service package requires a two week stay. A researcher of SIRIM (a Malaysian research and evaluation organization) received lectures from 3rd – 14th March 2014.
Other service packages, such as On-site Installation & Training are available. Please feel free to contact us for details or a quote.
Lecture scenes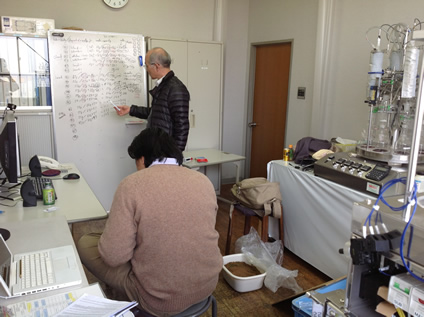 Tour of a compost plant (aerobic fermentation)
Noriduki poultry farm (Yaizu city, Shizuoka pref.)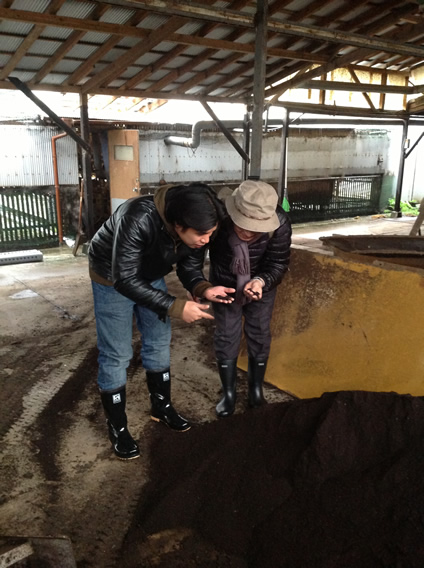 Suzuki stock farm (Makinohara city, Shizuoka pref.)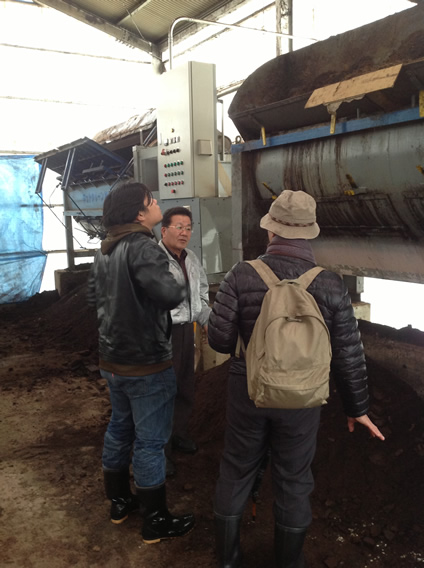 Tour of a sewage disposal plant (anaerobic fermentation)
Morigasaki Water Reclamation Center (Ohta-ku, Tokyo)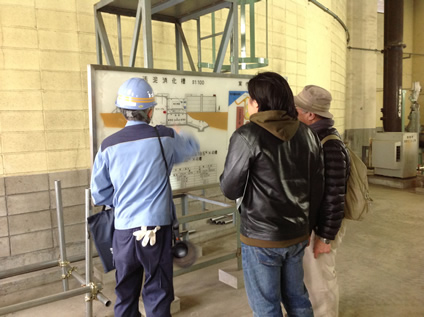 Visit to AIST (National Institute of Advanced Industrial and Science Technology) Tsukuba
(Tsukuba city, Ibaraki pref.)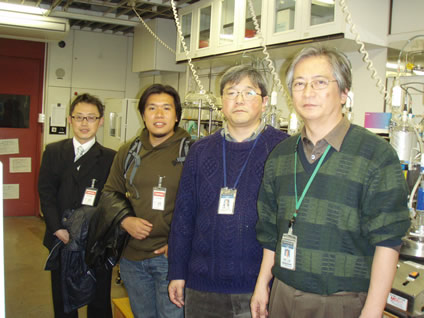 Flow-type Microwave Reactor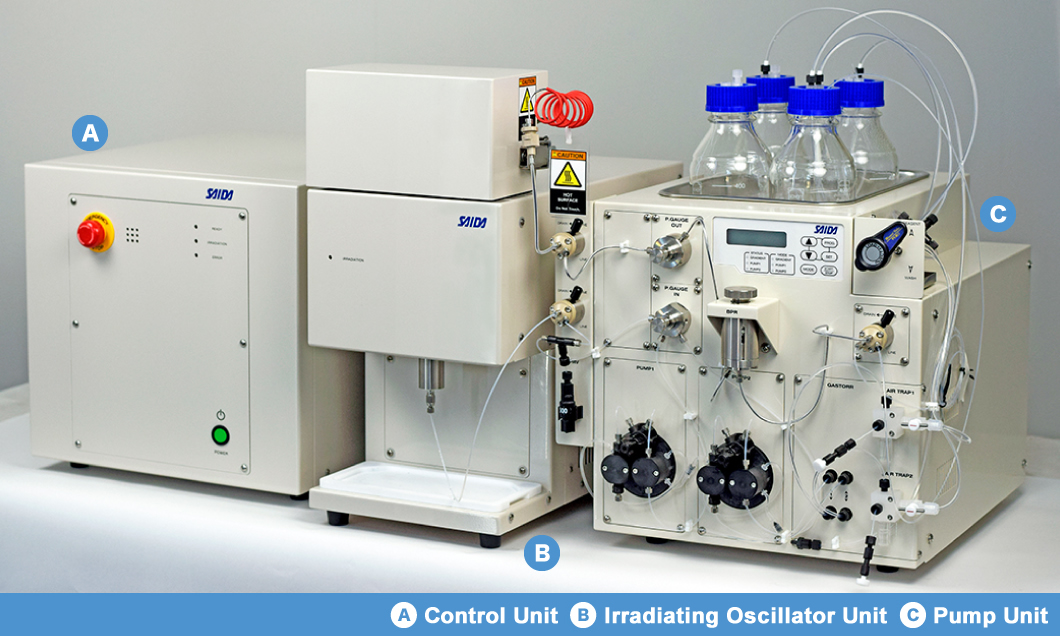 The benefits of 'Microwave heating technology' x 'Flow chemistry'
Rapid heating for flow chemistry applications
Scale-up of microwave chemistry
High temperatures & high pressures for chemical reactions (230 °C & 2.5 MPa)
Safe operation under high temperature & high pressure
Specifications
Microwave Output
Max: 100 W
Maximum Temperature
230 °C
Maximum Pressure
2.5 MPa
Pump Modules per Unit
2
Flow rate
0.1~9.99 mL/min (setting value)
Flow rate (Low pulsation)
0.1~5.0 mL/min (setting value)
Reactor
Helical / Straight glass tube
Control Unit size
Oscillation Irradiation Unit size
Pump Unit size
350Wx465Dx345H (mm) / 20 (kg)
220Wx420Dx465H (mm) / 19 (kg)
370Wx460Dx350H (mm) / 20 (kg)
Remarks
CE marked
Accessories
Regular type

Type
Volume (mL)
Helical
Type A
1.0
Type B
2.0
Type C
3.0
Straight
Type C
3.0

For Solid Cartridge type

Type
Volume (mL)
Straight
Type A
2.0
Type 2A
3.8
Type B
1.0
Collaborative Research Network
National Institute of Advanced Industrial Science and Technology (AIST)
University of Shizuoka
Shizuoka University
Gifu Pharmaceutical University